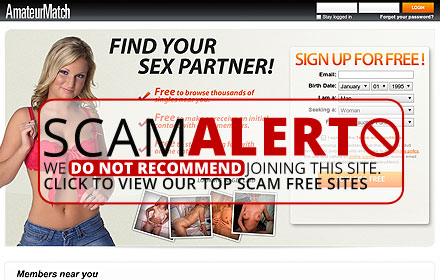 The advertisements actually take up more space than the content on the member's main page of Amateur Match, which is never a good sign. Your inbox is the first thing you'll see with the latest emails listed. Below that are the newest members, newest galleries, and members currently online. Along the top of the page are the navigation links that take you around the site where you can search, browse picture galleries, upgrade your membership, check your inbox, and more. The rest of the page is given over to ads, primarily for live webcam chat where you're certain to be prompted to give your credit card so you can pay for the privilege.
Is Amateur Match legit? Not entirely, that's for sure. This casual dating site is of the variety that is far more concerned with making money than it is with helping you hook up, which is a shame and always hugely frustrating. They do things like bombard you with fake messages and chat requests from beautiful girls that you can't answer because you haven't paid for your membership yet. They spam the site with ads. They want you to pay, pay, pay, and that's always a sign that it's a bad site and isn't at all legit.
Does Amateur Match work as a swing lifestyle site? Not particularly well. I suspect it doesn't work well as a dating site of any kind. A search in my local area, which is one of the largest cities in the US, reveals a grand total of 45 couples looking to swing. That's compared to more than 36,000 one of the sites you'll find in the positive area. That's a huge difference and it's all the information you need to decide that the answer to does Amateur Match work is a resounding no.
They offer free content in the form of picture galleries, but it's a poor collection. First, there are no videos, which is where the real fun happens in amateur porn. Plus, some of the pictures are obviously not amateur and some are exceptionally old. I'd guess they bought these pictures from a third party and pass them off as uploaded by members. Other than the underwhelming collection of images there is no bonus content of any kind at Amateur Match. Plus, the site runs slowly. There is often a lag of several seconds between clicking a link and the page loading, something that's unacceptable when you're browsing lots of profiles and pages. It's yet another unnecessary frustration.
It seems clear that Amateur Match is little more than a money grab by the folks that own it. Everything about the site is geared towards separating you from your money or selling you something. Most importantly, it's a terrible site for meeting others in the swing lifestyle. With a few dozen couples in each city it's just not enough, especially when compared to a site with thousands of potential couples to hook up with in any particular city.