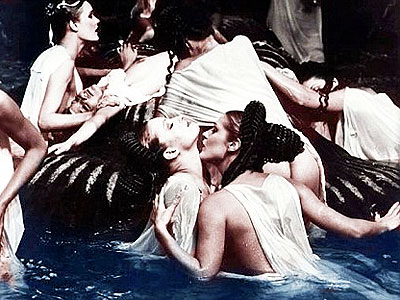 The swing lifestyle as we know it today was actually far more popular in ancient times, although they wouldn't have called themselves swingers or had any concept of wife swapping, hot wives, etc. Instead, they were simply far more open sexually. Sex was viewed differently back then and the rise of a society built around family units, faithful marriages, etc, is a recent development fueled by the rise of organized religion and the morals it teaches us. There's no reason you can't be a moral, religious person and enjoy the swing lifestyle though and looking back at history teaches us this is true.
The Sumerian Empire lasted 4000 years and ran from 8500 B.C. to 4500 B.C. Our knowledge of their sexual escapades comes from statues and other artifacts from the time and shows a great comfort and looseness where sex is concerned. The Sumerians took their cues from their bodies. Sex felt good and having sex with multiple people felt even better, so they simply did so. The empire lasted longer than most so it's hard to argue with their pursuit of hedonistic pleasures, isn't it? The orgies depicted in artworks from the Sumerian period must have been incredible. Think of them as a sexual free for all where if you were attracted to someone you could simply have sex with them. It's similar to swing parties today, although even they're a little more controlled than an all out orgy where anything goes. Nowadays we worry a little more about disease, etc. Sumerians were focused on the pleasures of sex and often had slaves that were meant for nothing more than sexual pleasure. That was a different time, of course, when human slavery was commonplace.
The Ancient Egyptian empire lasted for 3000 years, starting in roughly 3100 B.C. Again, the artwork and knowledge from the time period describes all out orgies and sex parties. You'll notice throughout this article on the history of swinging that older cultures were far more in tune with the idea of sex being used for pleasure just as much for procreation and the propagation of the species. If you think about it, you'll understand that your body was built for pleasure and to ignore that is beyond foolish, particularly when there are so many benefits to having lots of sex, including a genuinely healthier life in numerous ways. The Ancient Egyptians understood this and pursued the many benefits of sexual pleasure through parties and what we would think of as wife swapping with glee. What would be better than feeling horny and being able to have sex with someone in that very moment? Brothels were also far more accepted and popular in Ancient Egypt and almost all ancient times. Once again, older cultures seem to have a greater understanding of sex and far less fear of its consequences.

The Roman Empire, which we've all heard so much about through school, media, etc, is known for its sexual freedoms. Roman society is closer to ours in terms of men marrying women, having families, etc, but they were still sexually free and open, participating in wild orgies, having sex with slaves, and so on. However, the Romans did move towards a more conservative sexual approach as the Empire grew and matured. Wife swapping was frowned upon and it was a great sin to sleep with another man's wife, particularly among the higher classes. That being said, married men would still step outside the marriage and sleep with prostitutes. As the Empire grew older the orgies lessened and what we would think of as the swing lifestyle faded in popularity. Of course, outside of Rome, the seat of the Empire, sexuality was in full swing in certain areas so many Romans were able to have their fun, including exciting wife swapping action and orgy parties with swinging of all kinds.
The first documented instance of a swing lifestyle arrangement was on April 22, 1587. Couples John and Jane Dee and Edward and Joanna Kelly made a written agreement that wife swapping would be a regular occurrence between them. They were into elements of the occult (spell casting, etc) and were labeled witches. The two men were in business together and the sÈances they conducted guided them to the swing lifestyle. Unfortunately, as so often happens, the lifestyle ended badly for them and destroyed their friendship and working relationship. There is a lesson to be learned from their history. If you're not careful you could easily destroy friendships and relationships when you become swingers. It's a delicate thing and needs to be carefully managed.
There are reports of two messianic Jewish sects engaging in orgies, wife swapping, and swing parties in the 18th century. These sects, known as the Frankists and Donmeh, are alleged to have celebrated with a yearly ìLamb Festivalî that featured a celebratory feast and the swapping of wives. These are unsubstantiated rumors that could very well have been created to discredit these religions by those paranoid that they would usurp their power.
In the 19th century criticisms of the same style were leveled at communism, this time based on the idea that the religion is about equality for all. Essentially, they were accused of sharing their women by creating a female collective that could be used by any of the men for sexual satisfaction. It would have been a form of wife swapping but there is no evidence to suggest it's true.
Modern swinging is credited with beginning in the US military. In World War II Air Force pilots often made deals with their coworkers that they would see to the needs of their wives should someone perish in flight, which was highly probable given how often pilots of that era died. Caring for the wives included seeing to their sexual needs. This attitude was adopted in later years by military families that saw no reason for the wives to stay faithful while the husbands were away around the world. Thus there would be swinging as the men left on base would sleep with the lonely wives and when those on duty would return they would sleep with the wives of those that left. Modern swinging has developed from those early forms in the 1940s and 1950s and has evolved to key parties in the 1970s to quiet relationships in the 1980s and 1990s to a more open and free conversation about the benefits of swinging and unleashing human sexuality as it was meant to be set free.