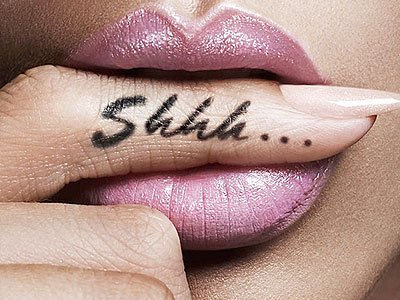 It's important to learn the proper swinger etiquette because failing to do so could cost you in the community. In most cities and towns the group of swingers is small and tight knit, which means if you screw up or act like a jerk or idiot everyone will quickly find out about it and you'll be ostracized. You'll have to work your way back into everyone's good graces and it would be so much smarter to avoid having to do so in the first place, which is why you should read carefully about etiquette in various swing lifestyle situations.

Etiquette at a Swinger's Club
Most swingers clubs have their own set of rules, so the only major rule here is to be sure that you're familiar with the club's rules before you join the swing lifestyle there. They'll likely have an age limit, they might have a dress code, and they will likely have a code of conduct. If you care about joining the swing lifestyle and becoming a valued member of the community you'll be sure to familiarize yourself with the rules before you visit the club. You can usually call or refer to their website to get a list of the rules. As a general rule it's a good idea not to get drunk at the club and to keep your hands off until you've been invited to touch, at least the first few times you're there while everyone is still getting to know you.

Etiquette at a Swinger Parties
1) Be kind to the host. Someone always hosts the swingers party and it's wise to be good to them so you'll be invited back. It doesn't hurt to bring a gift and something consumable is the smart choice. A bottle of wine would be nice. Thank the host for having the party and inviting you and compliment the home or choice of venue.
2) Behave as if you're at any other party. Just because the point of a swing party is for everyone to have wonderful sex doesn't mean you have to act like a sex pervert or be strange. Instead, behave as if you're at any other party you've been to. Mingle, chat, and get to know people. You'll be sizing them all up as potential partners, sure, but that's the whole point. You're normal people with desires that run a little different than most. There's no reason not to behave normally. The topic of sex doesn't have to come up every other second.


3) No touching unless you've been invited to do so. This is true at any kind of swing lifestyle event, but it's particularly true at a swing party. No one wants to feel violated and everyone wants to feel in control. After you've been a party of the community and you get to know some of the members you'll learn to understand more subtle signals, but before you've reached that point you should never assume. If you feel like someone is giving you signals but you're not sure, go ahead and ask if it's alright to touch them and begin the fun. There's almost no chance you'll ruin the mood with a simple request.
4) Do not get drunk. This is a big one. First timers tend to be a little nervous and they make use of the libations provided to soothe their nerves, but that often results in drunkenness, which is a big no-no at a swing party. You'll be surprised at how swiftly it gets you thrown out or how next time around your invite never comes. The truth is, there's nothing worse than having sex with a drunk person if you're sober, particularly if that person is sloppy drunk. It just isn't fun or sexy or all that arousing, so have a drink to calm your nerves or socialize but keep it at just one.
5) Be polite if you have to turn someone down. It's likely to happen over your lifetime as a swinger and might happen every party if you're particularly attractive. You have to remember that you are under no obligation to sleep with anyone at a swing party and you're welcome to turn someone down if you're not into them. However, it's important that you do so tactfully. You don't want to embarrass anyone or make them feel shame. In fact, if you do it right it should take no more than a second or two and they should happily move on and wish you a good evening. On the flip side, you should never be insulted if someone turns you down. If your ego is too fragile to handle that sort of rejection ñ and it will happen at almost every swing party you shouldn't get into the swing lifestyle.
6) If you don't understand the hot wife lifestyle then don't get involved. So many men make the mistake of telling a hot wife that they would never let her sleep with other men while they were faithful, that they would be able to give her the satisfaction she needs, etc. Those men are idiots. A hot wife loves her husband and the absolute last thing she wants is for another man to make fun of him. The husband of a hot wife is caring, loving, and giving and he understands that his wife craves sex with other men because it's in her bones, not because he's bad in bed. Don't ever question the relationship if you want to be with a hot wife (and you do, since it's incredible sex).

Etiquette on a Swinging Site
1) Always keep an open mind. As you browse through profiles on a swingers site you'll come across all sorts of desires and fetishes. The more judgmental you are the less likely you are to enjoy the pleasures of the swing lifestyle. If you find the whole hot wife lifestyle to be offensive just keep it to yourself and don't bother commenting or sending a nasty message to someone that loves the lifestyle. No matter what you should always just move on and forget about making a nasty comment to someone that's into something you don't enjoy.
2) Be patient. Impatience is the surest sign of a newbie to the swing lifestyle. Veterans know that it often takes time to cultivate a relationship, particularly between two couples. There's a lot that has to go right for that relationship to work and you need to be cognizant of that. If you're really into the other wife but your wife isn't into the other husband it just isn't going to work. You need to wait for that perfect couple to come along.
3) Read a profile thoroughly before you send a message. There's nothing worse than an utterly impersonal and distant message coming from a potential mate. Make sure you include something personal in the message to make it clear that you've read their profile (be it a couple or single person) and found what you read interesting. Let them know you want to know more and be specific about it.

General Swing Lifestyle Etiquette
1) Always be polite. By and large people don't respond to rude or boorish behavior. The same holds true for the swing lifestyle, which is why your default position should be politeness. No one ever went wrong being kind, warm, and polite, so give it a try.
2) Always practice safe sex in the swing lifestyle. Condoms are key and you might consider them for oral sex as well, since disease can be more easily transmitted than you might think via oral sex. If you're with a partner that wants to go condom free you should not do so. In fact, you should end that relationship since smart swingers are safe swingers.
3) Keep your drinking and drug use under control. In the swing lifestyle it's frowned upon to be having sex under the influence of a mind altering drug. A drink or two to loosen you up is okay, but just about everything else is a no no. It's kind of insulting in a way to think that you need to be messed up to have fun having sex.
4) Always be respectful. In this case, being respectful means being okay with the decisions others make. If a potential partner tells you she's not interested then you thank her and move on immediately. When rejecting someone you're polite and quick about it.
5) Practice good personal hygiene. We've probably all slept with someone that couldn't manage to keep their personal hygiene in order and we all know it's gross. That's why you should always keep clean before a swing lifestyle event, wife swapping, or anything else sexually related. A good scrubbing in the shower, deodorant, and perhaps a scent sprayed on your body is always a good choice.