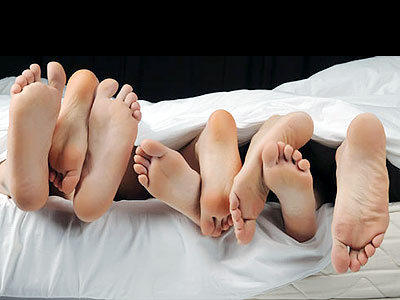 Hopefully you've followed all the steps laid out in previous articles and are ready for your first wife swapping encounter. You took your time when looking for couples. You send plenty of emails, met with a few in person, and settled on one couple that worked for both of you. You and your wife are excited and nervous at the prospect of that first encounter and you want to make sure it goes well. Hopefully this article on the final step in the process will soothe some of your worries and make it easy.
It's been shown that communication between the swing lifestyle couples can calm most fears. The only question is what you're supposed to communicate about. The short is answer is everything. The long answer offers a little more detail. First you need to communicate with each other about what you're willing to do. Do you and your wife want to go full wife swap on your first time out (that means everything including intercourse) or do you want to set a hard limit on your contact? Perhaps you'd like to stick to soft swap (everything but penetration) for the first time around. There's still plenty of fun to be had with that (kissing, fingering, fondling, breast play, blowjobs, cunnilingus) and orgasms will be had by all. In fact, skipping the sex the first time around can enhance the erotic and intimate nature of the whole proceedings and create an even greater desire for when you finally go full swap. Perhaps you should consider it. As with the previous steps, patience is always a good thing and you can take your time in the planning stages of your first wife swapping event as you work out the details with your wife.
Once you've settled on what the two of you are willing to do it's time to make contact with your swing lifestyle couple of choice and see what they're willing to do. These conversations aren't always easy if you don't have much experience, but you'll find that if you keep the lines of communication open you'll eventually come to a reasonable agreement. If they want to go full swap and you're only interested in soft swap they will likely agree to it because they know you'll go full eventually, just like almost every swinger does. Hopefully you've discussed even the small details with your wife and can communicate them with your new swinging friends. Are you okay with ass play of any kind or rimjobs? Is tongue kissing okay or should it be lips only? Is fingering and fondling of any area of the body okay? Is there anything you're keeping for you as a couple or is anything okay? Some couples prefer to keep a particular position or sexual activity just for them to keep it special. You might want to think about it or at least keep something off limits the first time around just in case you want it for yourselves later.
Before you do any of the logistical date planning you should have the rules worked out. A lack of clarity on those points is the most common source of anxiety with wife swapping couples so once they're ironed out the worries tend to float away and all parties involved can concentrate on the fun they're going to have.
First time wife swapping couples almost never just jump right into the bedroom. An activity of some sort comes first. It tends to be as simple as dinner and a glass of wine with the four of you and that's often more than enough to get the ball rolling on a night of pleasure. It helps to break the ice by simply being friendly with each other. Tell stories of how you met and fell in love, talk about the fun vacations you've been on, etc. Stay away from divisive topics like politics and religion though. That's a great way to kill the night before it starts. It's also wise not to talk about sex. Everyone is thinking about it but bringing it up can really put the brakes on since everyone knows you'll be having sex soon enough and it's hard not to have that in your head once you're talking sex. You can pour another glass of wine for everyone and head out to the living room after dinner. Sit by your new partner and continue the conversations. Hopefully things will naturally evolve to you talking to your new partners and almost ignoring each other. Gentle touches are encouraged and when the moment feels right you can initiate a kiss. It's what you're there for and everyone knows it so don't be afraid to go for it.


If it feels like a simple dinner and drinks isn't going to cut it there are other options. If you want to go out a dance club is a great choice. If you need more then go to a swinger's club where you'll be among hordes of likeminded people and can freely dance a sexy dance, explore each other, and go to sexual places you likely wouldn't be able to in a regular club. A regular club will likely be just fine though. When you're there make sure you switch partners on the dance floor. There's really nothing like moving together to the beat of a song to get the sexual energy flowing. That's what dance music is for! If you've had a cocktail and your anxieties have been calmed you might find that a bit of dancing is all you need. Perhaps you make out in the parking lot on the way to the car and can't keep your hands off your new partner in the car. By the time you get home or to the hotel room you've rented for the night you'll forget about any anxiety you might have had and push it right to whatever sexual limits you've set for the night (if any).
When it comes to the actual intimate action there are plenty of options. Some swing lifestyle couples prefer to explore their new partners in separate rooms. It can be helpful to encourage you to forget about your wife and think of the new woman you're with and do the same for her and the new man she's with. It's important that you be a little bit selfish so you're entirely present with your new partner since it will ruin their fun if you can only think about how your wife is feeling and if she's having a good time and if she's jealous.
Other couples prefer to have their wife swapping fun in the same room so they can soak up the pleasures of voyeurism by watching their spouse have sex while they do the same thing. You also get double the moans of pleasure and the aural joys of sex can't be underestimated. Imagine your wife's moans of joy ringing through your ears as you're inside another woman. It's pretty powerful stuff and if you can handle it then it might be worth pursuing doing it in the same room. At the very least you should consider it in the future if you pass on it the first time.
Most couples meet at one of their two houses since the familiar ground makes it easy to get settled in and the space allows for anything necessary. However, it's not a bad idea to get a hotel room so everyone is on neutral ground. Plus, there's something about a hotel room that promotes total sexual freedom. Perhaps the fact that you don't have to clean up leads to more shameless behavior, but it's wonderful either way and it can make for a freeing and fabulous first time wife swapping experience. It's certainly worth doing in the future if you skip over it the first time.
Your first time swinging experience will be far better if you maintain your confidence. The number one thing that men and women cite as being attractive is confidence, so make sure you're exuding it as you go on this journey with a new partner for the first time in your marriage. Let your confidence guide you. Let it show you the way to giving your new partner an incredible orgasm and having one of your own along the way. It's the key to great sex and swinging.