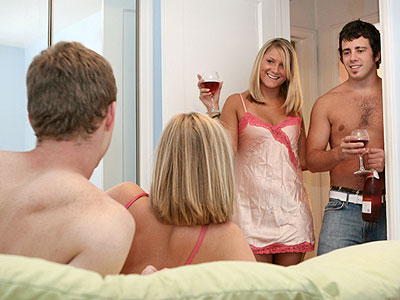 As you roll down the road to the swing lifestyle you're learning lots of new things and taking in lots of information that better informs you and hopefully helps you shape what you want your swinging or wife swapping experience to be. Now it's time to learn about the levels of sexual play different couples are comfortable with and the rules they set.
There are six categories that couples fall into with the two mentioned in this article's title as the most common. Let's start with the less common.
6) The voyeuristic couples are exceedingly uncommon. They simply want to watch other couples have sex. They could do this online via webcam shows or just watch porn, but they find going to a swing party or club and watching others have sex to be highly arousing. Most voyeur couples are new and eventually graduate to participating.
5) The opposite of the voyeurs are the exhibitionists. These couples don't want to have sex with anyone else but instead want to have sex with each other as an audience watches. They tend to not really be swingers but find that a good swing party is a great place to find an audience. Unlike the voyeurs they tend to not graduate to full wife swapping.
4) Same room sex. This was mentioned in another article on the site. Same room sex couples will have sex with each other as they watch other couples. It's a combination of both voyeurism and exhibitionism and while it seems like that would be rarer it's actually more common than either in separation. It's undeniably alluring to watch another couple make love as you're doing the same thing and these couples almost always graduate to the swing lifestyle with full swapping.
3) Bisexual wives. These couples are not interested in penetrative sex but are instead interested in the wife getting to explore her bisexual side. A swing party is a great place to meet bisexual women (incidences of bisexuality among women are higher at swing parties than in the outside world) and many are willing to have a full on lesbian experience for the thrill of it. The husbands with either watch while clothed or masturbate to the spectacle.


2) Soft swap couples, or soft wife swap. This refers to couples that prefer to exchange oral sex with other couples instead of going for full on wife swapping with intercourse. This is a logical step up for same room sex couples and includes kissing, fondling, nipple sucking, fingering, and sometimes a rimjob (though that's rare).
1) Full swap couples, or full wife swap. This is the final stop on the swing lifestyle train and is where the majority of couples end up. Some never graduate from soft swap but most do because it's what feels so darn good. This is where wife swapping is at its most beautiful and where the sexual pleasure is highest, which is why most end up here.
As you become a swinger you should be aware that each couple is likely to have their own set of rules so they can feel most comfortable in the lifestyle. You'll likely develop your own as a couple too. It's just how it works. That's why you should never assume anything when you're with a new couple and be sure to keep the lines of communication open. Some couples may want to save a particular activity or position for them only (perhaps a wife will only give her husband a blowjob, which will leave you out in the cold for oral pleasure). It's smart to ask before you do something new or to clarify beforehand if anything is off limits. Swinging couples will have no problem going over the details of their particular rules because they want the experience to be as pleasurable as possible, just like you do.