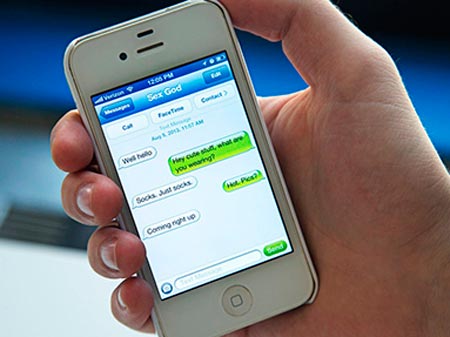 There are some people who were born comfortable with their own sexuality, some that have found comfort in it through experience, and others who are uncomfortable with it all together. If you are someone who is having a hard time with sex "outside of the box", sexting is something that may be making you feel, well, a little silly. When you talk about sex out in the open, it feels like you are standing naked. All of your vulnerabilities and insecurities are right out there in the open. When you are sexting, it sometimes feels the same way. Texting cute things is one thing, sexting, is another whole thing. If you want to be able to turn your swinging partner on, the art of sexting can get their engine revved up before the fun even starts.

What is sexting?
Sexting is text sex. Sound ridiculous…It is anything but! It is a way to get your partner all ready to go before you even arrive. Foreplay is something that can turn any sexual encounter into something amazing. Sexting is foreplay that you can begin so far ahead of time that it can keep you in the forefront of their mind. It can have them on the verge for hours, even days, at a time. So how do you get started? The first step to sexting is to know how to do it.
Think about all the things that excite you. Chances are good if it excites you, it will excite your partner. Talking about the things that you would like to do, or the things you would like done to you, is the cornerstone of sexting. It isn't about sexual innuendo. It is about describing, in detail, what you intend to do the next time you are alone with your sex partner. Like telling a story, it begins with a description, an invitation, and a follow-up of what is to come. The first step is to send a simple text asking if they would like to know what you are thinking about. Once they reply, and you have their attention, let the games begin.




Difference between sexting your spouse and you swinging partner
If you are someone who is in an open relationship, or what some would call a swinger, then you may want to sext slightly differently than you would if it was your spouse. Sexting with a swinging partner can be tricky. Although both of you have made an agreement with your perspective partners that swinging is allowed, sometimes sexting can be crossing the line. Outside communication that involves texting in general may be off limits. The whole idea behind swinging is that you are in a committed relationship, but having casual sex outside of it. The understanding is that your heart belongs to your partner, but your body parts may be on lend to other swingers. If you are contacting your swinging partner outside of casual sex, that may cause problems.

Before you begin to sext with your swinging partner it is important to make sure that your spouse, or significant other, is alright with it. Having a conversation about what is acceptable, and what is not, will avoid any problems that may arise. If your committed partner finds texts on your phone from your swinging partner, it may bring on feelings of hurt or insecurity. Make sure before you engage in sexting that it is alright with your committed lover.
If it is alright to begin sexting, then there really is no difference between sexting with your partner or your swinging partner. The goal is the same, to turn them on. Make sure that you keep the likes and dislikes of the two partners separate. They will most likely have different fantasies, and turnoffs that you will want to take into consideration. The more explicit that you are, the better the sexting will be. The key to sexting is to be as descriptive, and as imaginative, as possible. You don't have to write a romantic novel, just a short, sexy, excerpt from one. Sexting can be a great foreplay tool if you learn to let your inhibitions go and enjoy the ride.