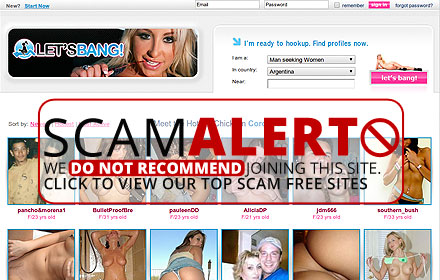 Let's Bang wants you to get laid and in the member's area they hope to help you hook up. The site is not built strictly for swingers and the swing lifestyle so right off the bat it comes up short for the purposes of those browsing our site. However, almost every sex dating site has couples on it and this one is no exception, so you can still get the job done. You can join in almost no time and very little information is required until you decided to upgrade to a paid membership, at which point they need you to get a little more in depth.
The member's main page of Let's Bang lists hotties in your local area, girls online at the moment (it's always girls and never couples or guys, etc), a list of those that have viewed your profile, your friends list, your messages (before you become a paid member all those messages are fake and designed to get you to sign up, so don't fall for it), and a list of the girls on video chat that you can pay extra to watch. The design is decent but it looks a little sloppier than the best sites in the business.
The biggest problem with LetsBang is that it has almost nothing to do with the swing lifestyle. It's a serviceable sex dating site with some significant issues, but without the focus on swinging there's really no reason to join and spend upwards of $30/month on a site that gives you little of what you need or desire as a swinger. Even when you browse the listings of couples that presumably want to swing (under the couples seeking couples search listing, for instance) you get a wealth of results that seem a little bit off. The couples don't provide enough information, there aren't enough pictures of the actual couple, etc.
The advanced search function at Let's Bang lets you narrow down your results by eye color, body type, hair color, race, religion, language spoken, marital status, profession, income, and what they're interested in with regards to relationships and sex. It's the same type of search as any other site. Your best bet is to search results by those that are online now, which guarantees someone that's an active user of the site, not a profile that's been around for ages and hasn't seen activity in months.
Ultimately, when you ask does Lets Bang work the answer is somewhere between yes and no. It works and you'll probably find interested couples, but there's nothing about this site that makes it a good resource for those into the swing lifestyle. It's a general sex dating site and while it serves a purpose, it also comes up short of other sites in the niche based on the smaller number of members, the cheap tactics to get you to pay for a membership, and more. Plus, there's no information on swing parties and the swing lifestyle, which you can find on other sites.