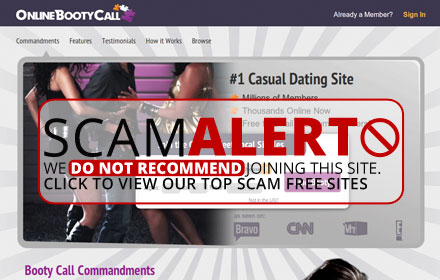 It's little odd that a site called Online Booty Call would have testimonials about people finding long term relationships that make them happy. Do people really join this site to form a long term relationship? They call it the number one casual dating site and claim millions of members with thousands online at any given time. They also say it's free for you to email premium members, although you'll notice they say nothing about being able to respond to those emails, which means like any other site you have to pay a membership fee to make any connections, of course.
Online Booty Call has not invested much in their design and it shows. The site is a tad bit ugly, although that doesn't matter all that much. What's more annoying is that the profiles feature so little information. They don't ask you for much when you sign up and no one I've visited provides more than the bare minimum. That would include eye color, hair color, height, body type, and sexuality. There's a small section where you can write what you're looking for and a bit about yourself. Most people write a sentence or two. You're required to upload a picture to use the site, which is one of my favorite things they do. Far too many sex dating sites include tons of blank profiles. At least with a picture you can get an idea if you're interested in the girl.
Unfortunately there are no couples on the site, which makes it pretty useless for the swing lifestyle. Surely couples have signed up and just selected man or woman, but there is no option to list yourself as a couple and thus no option to search for a couple to swing with. I suppose you could search for a single swinging guy or a unicorn (that's a single swinging girl) but why would you bother? It's utterly useless to join Online Booty Call if you want to attend a swing party or hook up with a hot wife or get into wife swapping, sadly. Does OnlineBootyCall work can be answered with a loud no when it comes to swinging.
It might have something to do with the name, but Online Booty Call features a whole lot of big ass chicks. There's a much higher percentage of black girls in the database and plenty of curvy white women too. It makes sense when you consider that the general population of American is overweight, so perhaps Online Booty Call is the most honest adult dating site you'll ever see.
Online Booty Call does not work as a swingers site. There's no option to search for couples and none of the singles I saw advertise themselves as hot wives looking to hook up or guys looking to meet with couples. If you're looking for a swing lifestyle site you need to look elsewhere and if you just want a good sex dating site there are still great options for you.