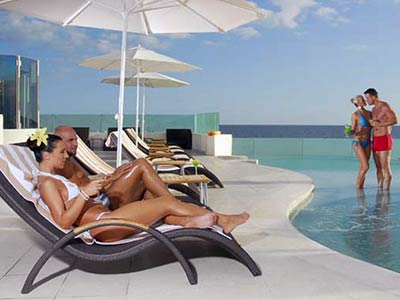 If you don't know what a swinger is, then you probably won't need this guide. The thing about being a swinger is that you are in a special club of people who know how to really enjoy your sexuality, your mate, and have some exciting sex. That is not something that you can do, or practice, just anywhere. There are places that are conducive to swinger's vacations and then there are those which are just not. You aren't going to want to go to Disney World for the swinger's vacation of a lifetime. Choosing the right place can make the difference between an amazing sexual exploration vacation, and something that is anything but. There are special locations that cater to people who like to swing. The best part is that you can meet new people who like the same things that you do, find new mates to hookup with, and not have to worry about monitoring what you are doing, or saying. The best of all worlds, these are the best vacation destinations for swingers.
These are private destinations that are designed for the swinger's population. They have made these spots more private and exclusive to cater to your needs.
Village Private
Village Private is located in Spain (Ibiza) and is a place that caters specifically to those who are looking to swing with other couples. It is a secluded spot that is off the beaten path. It is like walking into a fantasy world where nothing is considered "ordinary". The staff that is employed is trained to accommodate the wants and needs of the swinger's population. Being in the Exotic Ibiza gives you the additional feel of being in paradise on earth. The rules are relaxed and so are the people who vacation at this wonderful site.
The Caliente Caribe
This Island off the Dominican Republic is a place like no where else on earth. A completely exotic place, The Caliente Caribe gives the swinger the additional security of knowing that nothing is off limits. There aren't the same restraints that you get with regular civilization. The surroundings are lush and so is the nightlife. Never a shortage of things to do, everything is set up for care-free sexual experiences that you can only dream of. Everything goes atmosphere is what you will find on this quiet and secure vacation locale.
La Cap D'Agde
There is a reason why this vacation spot is labeled the "naked city". It is a place that is dedicated solely to swinging and sexual experiences. La Cap D'Agde is nestled deep in the countryside of France, it gives the European open sexual attitude atmosphere that you just can't get in the States. There aren't many things that is out of bounds, and everyone vacationing there is doing so to find the sexual fantasy of a lifetime. One of the most highly populated swinger's spot, finding a fling to have fun with is not only probable, it is highly likely. Being that it is a nudist colony, sexual attitudes are already lax, as are the people who walk around looking for fun. The people of La Cap D-Agde are open to new experiences and have no problem being themselves out in the open. If you are looking for a thrilling swinger's vacation, this vacation spot can't be beat.
Amsterdam's The Toren Hotel
The one thing that we know about Amsterdam is that the rules are much more relaxed than they are in the States. Almost everything goes in Amsterdam with the most relaxed laws on earth. Nudity is not only legal, it is encouraged. If you want a vacation spot where you get to check out the goods before trying them out, The Toren Hotel is the best vacation spot on earth. Not only can you do just about anything imaginable, you can do it in luxury. The Toren Hotel caters not only to swingers, but those who like the finer things in life. If 5 star accommodations is what you are looking for, this is the spot for you. There are also cultural attractions, dance clubs and museums for entertainment during the day. The best of everything, check out the red-light district for some extra thrills while there.