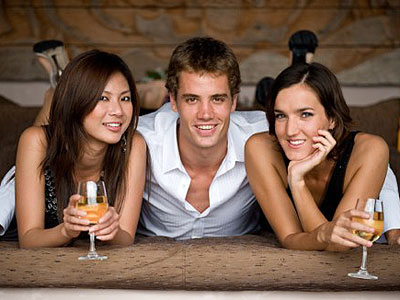 You want to become a swinger and you're heading down the path to the swing lifestyle. Here are some quick tips and bits of information that should help you make the most of this immensely rewarding lifestyle.
Same room sex is a good way to start your entry into the swing lifestyle since it involves having sex with your own partner. You and another couple (sometimes multiple couples) have sex with your partners in the same room and make a point of watching each other. It's a nice twist on typical sex as it adds voyeurism and exhibitionism to the mix. Soft wife swap is when you exchange oral sex with a new partner. Full swap is when you graduate to full on intercourse and have sex with another person while your partner does the same. That's what you would call wife swapping.
When you've gotten more comfortable in the swing lifestyle you might want to go even higher up the ladder into the wilder behaviors. Those would include group sex with threesomes, foursomes, fivesomes, and sometimes more. Gang bangs are uncommon but sometimes a married woman will want to take on as many men as possible, including her husband or often watched by her husband. Orgies are an all out sex party where anything can happen. These activities most often occur at a swing party where the attendants know and are familiar with each other.
Single men are almost never able to penetrate the world of swingers, mostly because there are so many that want entry. Why wouldn't a single man want to join couples and single women that want nothing but the pleasures of sex? It's a perfect world, which is why it's so hard for a guy to gain entry. There isn't much use for them so there are only a few slots. Single women that swing are, on the other hand, in high demand, particularly if they're bisexual. They're rare enough that they're referred to as unicorns in the swinging world, but they do exist, unlike unicorns. If you're a bisexual woman that wants to try something new you should consider getting into the swinging world. It's a damn good time. While bisexual women are welcomed with open arms, bisexual men are often shunned. It's a silly double standard but for some reason swinging men in couples find the bisexuality of other males threatening and they celebrate the bisexuality of women because it means MFF threesomes for them.


When you become a swinger you'll need to learn how to interact with others in the swing lifestyle. First and foremost it's important that you communicate well and clearly. If you're thinking something then just say it. Don't hold on to any petty grudges because you were turned down at a party or because a couple didn't turn out the way you wanted. Swinging is about letting go of all of that in the name of having great and deeply satisfying sex and if you keep your eyes on that you'll have a great time with the lifestyle.
When you meet with a wife swapping couple for the first time you should have a plan laid out to ensure it goes smoothly. First you should establish chemistry by meeting in a public place. Have code words established with your partner so you can communicate your like or dislike of the couple and plan your extrication or invite them back to your place for more fun. You should always play safe even if you're encouraged not to by your new partner. If they insist you should end the date. Remember that jealousy other than the playful, fun kind has no place in the swing lifestyle.